WISHING YOU WONDERFUL PROSPEROUS, HEALTHY AND HAPPY NEW YEAR!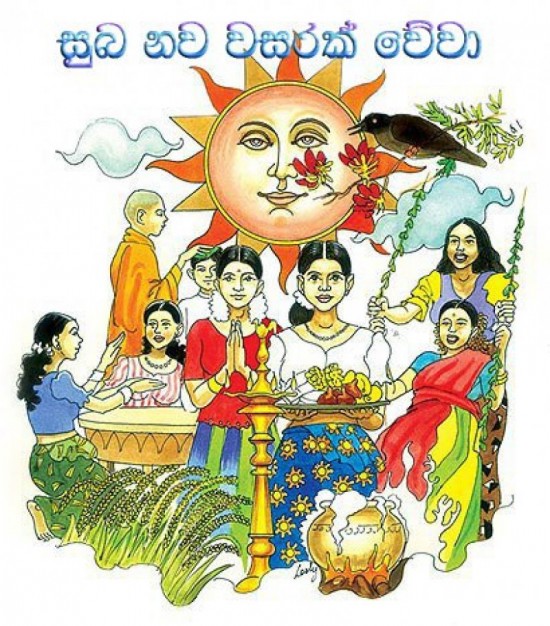 Sinhala & Hindu New Year Celebration was held at Tanaya Park today, April 12th, 2014 with main participation of Most Ven. Alawala Subhuthi & Most Ven. Nawala Lakkhana. Ven. Subhuthi explained that the meaning of Sinhala & New festival is that according to astrology,  sun moves from the house of Pisces to the house of Aries in Celestial and new year aurora begins during this transitional period. He also valued that while living in a country like United States, parents  encouraged their children by making them participate to such celebration to witness the Sri Lankan culture and tradition. After lighting auspicious coconut oil lamp by both Monks and elders of the community, Ven. Subhuthi and Ven. Nawala Lakkhana also rub coconut oil on top of all people's heads and wished that they would live long life
                                  Ven. Alawala Subhuthi appreciated participation of Sri Lankan people to Celebrate this occasion and grateful for sponsors who assisted him to arrange this Celebration by organizing starting from food to scheduling traditional sport events for both children and adults.  At the end of the games, children and adults got small gifts for their best skills.
May Noble Triple Gem Bless You!
We are in a small resting place after traveling a long journey in this cycle of life. Buddha mentioned that one can become noble in many ways. Someone become noble by listening, seeing, profit of faith, learning four noble truths and noble eight fold path, servicing monks and recalling teachings of the Buddha; and your support, Ven. Dhammarathana have helped us to become noble. You have changed us for the good and your departure to Sri Lanka have greatly felt us.  We are not sure that we will see you, but your monastic support over the years, we greatly value. Your monastic mission in Las Vegas have been wonderful over the years. Not only that, but also whenever we have daily problems in life or perhaps problems with our health, you and Ven. Subhuthi have used power of virtue to console us as lay people. We cannot finish appreciating your dedication to improve the temple and support everyone in Las Vegas to build faith towards Buddhism and guide us to develop our spiritual lives. Also we are grateful for showering us with rain of Dharma over the years and cleanse our mind to travel in the path of purification. By wishing you have a great spiritual life and hoping to see you in the future whenever, wherever…. So long…
May You Enjoy Long Life!

 
                  Since the day we were born, we have been in contact with this Physical world. This physical world is what we think that matters to almost all of us and we try to win this physical world that we live in. In the previous article you may have read that people are successful winning the physical world but this article is more focused toward people who are trying to win the human world and in that sense realizing the world that matters most. 
                 Considering this, what is hard to realize is that we dwell in this physical world so much that we do not think that this physical world is good only until we exist. This physical world does not matter at all once we die. So trying to understand the physical world to the maximum level today will not help realize the world that matters to you most.
                 We can find that Buddha did not give the meaning "World" not only to this physical world. According to the Buddha's teachings, one definition of the "World" means human body. Buddha said, "The human body about a fathom with perceptions, sensations, and Vinnyana is the world that one should realize to the fullest." Since it is very difficult to give an English meaning to Vinnayana, imagine it is as a form of energy in the body that keeps a living being alive consist of memories of life times.
                 In conclusion, this is why we find monks in temples whom guide those who are lucky to seek them may full fill the path to realize their own world which is fundamental teachings of Buddhism to permanently 
cease mental or/and physical suffering in cycle of life, dissatisfaction, and unhappiness.
               
People have been always dedicated their lives, time and money to win the physical world in significant ways. It is shocking that people who lived in the past had the courage to establish a civilization in a desert like Las Vegas that temperature reaches unbearable limits in some months. People have not only dedicated their lives but also sacrificed as we come to know when the Hoover Dam was built many years ago having equipped with limited technology unlike today.
    It is clear that will of the people whom once lived in Las Vegas won the physical world and left the current generation with habitat as well as knowledge of technology to survive while maintaining the victory. Winning the physical world is also part of winning extreme weather that cause trouble for people in Las Vegas. Having utilities such as electricity and gas energizes the community console thousands of people in Las Vegas. 
  However; we are seeing that there are lot of people in Las Vegas who are in a quest of winning the human world. They have realized that the only way to win the human world is by purifying the mind. Purifying the mind involves practice of Dharma. Among many meanings, one meaning of Dharma is teaching that helps to win the human world. This Dharma can be practiced by anybody regardless of any religion or any denomination. This Dharma helps to understand within self, practice by self, realize within self, and see the results within self. This is why Dharma is valuable. 
   Existence of Nevada Buddhist Temple and devotional monks in the temple have been guiding people in Las Vegas for years regardless of their nationality, denomination, and religion to win the human world. We are humble to exist in a place like Las Vegas to guide people for the well being, purify the mind by the power of Dharma to achieve their ultimate goal of winning the human world by ceasing mental and/or physical suffering in cycle of life, dissatisfaction, and unhappiness.