Nevada Buddhist Vihara
Enhancement of an existing civility; bringing a close rapport between families and individuals; maintaining respect for each other, especially for the elders; leaning to listen to erudite counseling; fruitful discourse between the clergy and lay devotees; understanding the precepts of the Buddhist philosophy in a simple manner to transform them to enrich both spiritual and material lives.
These are the factors that are associated when lay persons flock around a Buddhist Temple.
And, these are the supreme qualities the Nevada Buddhist Temple disseminated since its founding in 1998.
Buddhism is not emerge on bricks and mortars that are used to bring the physical appearance, but on the hearts of those who frequent the institution. It is through that devotion, affinity, civility and constant discourse with the prelates and with the devotees that the atmosphere of  equanimity and compassion  emerge.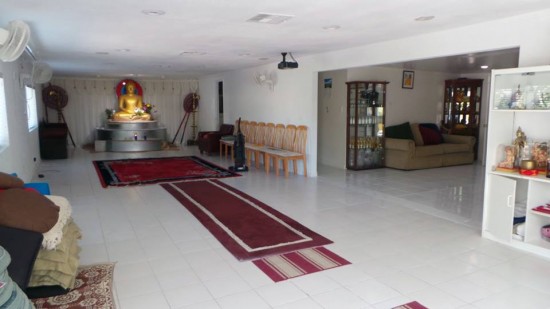 With this emergence of universal kindness and serenity, the dedication on the part of the laymen take a significant turn toward the enrichment of the facilities of a Buddhist Temple.
In recent months, the dedicated devotees made this physical enrichment of the Nevada Buddhist Temple a reality because of the inner enrichment they developed since the founding of the temple.
We now present you how that inner enrichment transformed into a physical enrichment to make the temple more closer to ones sole and heart.
The renaissance of the physical appearance of the Nevada Buddhist Temple was possible because of the maintenance and enhancement of the spiritual renaissance of the devotees.
The Shrine Room was extended to accommodate more devotees with added features such as an improved audio-visual technical system.
The air-conditioning system was vastly improved.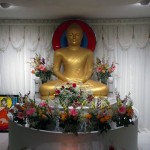 The pipe borne water system was greatly improved.
Within the Shrine Room area, a conducive atmosphere was built to enhance the spiritual aspect of the devotees.
Rest Rooms were modified.
These photographs will tell the whole story of the devotion of those who frequent the Nevada Buddhist Vihara.
We have not stopped at that:
Plans are underway to commence the construction of a three-room annex attached to the main temple to extend the facility to guest monks travelling from other states.
The outer appearance of the Temple will be greatly improved  as an added attraction. Once all these are completed the Nevada Buddhist Temple will undoubtedly stand-out as a prominent Buddhist place of worship in the Western part of the United States.
Those who are in the State of Nevada and in other states are greatly encouraged to participate in this project by monetarily helping the Temple.
We need to state that Nevada Buddhist Temple is being patronized by a large number of non Buddhist who participate in discourses that bring understanding not only of the Buddhist Philosophy but also about the interaction between all religions.
For monetary assistance, this web site carries the address of the Nevada Buddhist Temple elsewhere.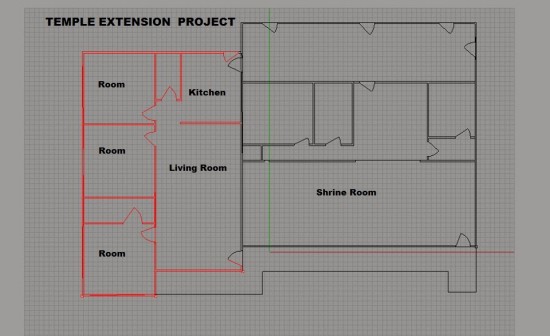 As we have mentioned in the lead story, we present here the Temple Extension Project- commenced September 2014 – to enhance living facilities for the Buddhist prelates who visit from other states.

LAS VEGAS BUDDHIST TEMPLE: 2040, ABELS LANE, LAS VEGAS, NEVADA. 89115  
               
PHONE:  702.457.7938

            Katina is not only traditional but also one of the most important Buddhist celebration for Buddhists around the world.  "Katina" means the idea solid or firm refers to strong karma (good action(s) and good thought(s) generates positive energy by offering Katina robe to the Sanga (Community or assembly of monks) council. At the time of the Buddha, rainy season last for three months in India. Therefore; it was inconvenience for monks to travel outside during the rainy season. Buddha mentioned for monks to reside in the temples during this rainy season but with exceptions. Lot of monks from California participated this ceremony. Ven. Dhamamapala explained about the meritorious deed that accumulate one who offers Katina robe. Also, he mentioned that the monks know their rank not by the day they ordain but by the Vassa which meant by the number of Katina that they participated determines their rank. Ven. Dhammapala 
mentioned about alms-giving and attachment that how one should give alms-giving without attachment or let go.
Main sponsors of this Katina Ceremony are Mr. Sunil S. Amarasinghe, Mr. Wije Thennakoon, Mr. Anura Kapugamage, and Bindu Mudunkothge families.
May Noble Triple Gem Bless You!
                 As lay people, you have various attachments to material objects and/or thoughts. Also our mind is constantly burning in the flames of desire, delusion and anger as well as mental and physical suffering. Even for a brief time, in a world that you are attached, to live detached; and in a world that you are burning in flames, to live without flames; we warmly welcome to Las Vegas senior lecturer in department of Pali and Buddhist Studies 
University of Sri Jayawardanapura, Colombo; chief incumbent of Saranath Buddhist Center, Kalubovila, Ven. Elamaldeniye Sarananda to console your mind with rain of Dhamma. He is currently pursuing PhD program in University of the West, California. His Dhamma sermon will be in "Sinhala Language" and your participation is invaluable. Ven. Elamaldeniye Sarananda is one of the experienced monks who has ability to preach in a way that guide you to carry your mind from mundane to supra-mundane level. We kindly ask you to consider this as a rare opportunity to cultivate your spiritual development and an opportunity to practice virtue, concentration and wisdom. We look forward to see you June 15th Sunday, 2014 

at Nevada Buddhist Temple. You may also observe 8 precepts and for more information, please contact Most Ven. Alawala Subhuthi. 
May Noble Triple Gem Bless You!
Join with us May 18th, 2014 to commemorate 2558th year of prince Siddhartha's birth, spiritual Enlightenment and passing away of the Buddha. Prince Siddhartha's birth is very important to Buddhists and Non-Buddhists. Buddhist population around the world celebrate this important historic and religious festival. For non-Buddhists, prince Siddhartha's birth, spiritual Enlightenment and became the Buddha is also important not necessarily to believe at once but to research, analyze and practice his teachings that he preached for the well being of humanity. While this is a religious celebration, it also gives an opportunity to purify the mind. Also, another aspect of this celebration is that it illustrates culture that closely mixed with religious ceremonies. You will be able to watch and listen to devotional songs also in this Sunday evening. You will also not miss to watch beautiful Vesak lanterns that those were created by children. There will be a Vesak lantern contest. 
For the first time, we are humble and welcome arrival of most popular monk, Ven. Mawarale Bhaddiya from Sri Lanka. He is a young monk who has great talent to give Dhamma sermon for the well being of people. If you can participate, this will be one of the days that you will accumulate lot of meritorious deeds. You may attain lot of meritorious deeds by attending and be able to listen to rare Dhamma sermon by Ven. Mawarale Bhaddiya. Bhante Ven. Nawala Lakkhana also will attend this Vesak celebration and will held meditation (Bhavana) program for those of who observed 8 precepts and other lay devotees. 
May Noble Triple Gem Bless You!