As lay people, you have various attachments to material objects and/or thoughts. Also our mind is constantly burning in the flames of desire, delusion and anger as well as mental and physical suffering. Even for a brief time, in a world that you are attached, to live detached; and in a world that you are burning in flames, to live without flames; we warmly welcome to Las Vegas senior lecturer in department of Pali and Buddhist Studies 
University of Sri Jayawardanapura, Colombo; chief incumbent of Saranath Buddhist Center, Kalubovila, Ven. Elamaldeniye Sarananda to console your mind with rain of Dhamma. He is currently pursuing PhD program in University of the West, California. His Dhamma sermon will be in "Sinhala Language" and your participation is invaluable. Ven. Elamaldeniye Sarananda is one of the experienced monks who has ability to preach in a way that guide you to carry your mind from mundane to supra-mundane level. We kindly ask you to consider this as a rare opportunity to cultivate your spiritual development and an opportunity to practice virtue, concentration and wisdom. We look forward to see you June 15th Sunday, 2014 

at Nevada Buddhist Temple. You may also observe 8 precepts and for more information, please contact Most Ven. Alawala Subhuthi. 
May Noble Triple Gem Bless You!
Join with us May 18th, 2014 to commemorate 2558th year of prince Siddhartha's birth, spiritual Enlightenment and passing away of the Buddha. Prince Siddhartha's birth is very important to Buddhists and Non-Buddhists. Buddhist population around the world celebrate this important historic and religious festival. For non-Buddhists, prince Siddhartha's birth, spiritual Enlightenment and became the Buddha is also important not necessarily to believe at once but to research, analyze and practice his teachings that he preached for the well being of humanity. While this is a religious celebration, it also gives an opportunity to purify the mind. Also, another aspect of this celebration is that it illustrates culture that closely mixed with religious ceremonies. You will be able to watch and listen to devotional songs also in this Sunday evening. You will also not miss to watch beautiful Vesak lanterns that those were created by children. There will be a Vesak lantern contest. 
For the first time, we are humble and welcome arrival of most popular monk, Ven. Mawarale Bhaddiya from Sri Lanka. He is a young monk who has great talent to give Dhamma sermon for the well being of people. If you can participate, this will be one of the days that you will accumulate lot of meritorious deeds. You may attain lot of meritorious deeds by attending and be able to listen to rare Dhamma sermon by Ven. Mawarale Bhaddiya. Bhante Ven. Nawala Lakkhana also will attend this Vesak celebration and will held meditation (Bhavana) program for those of who observed 8 precepts and other lay devotees. 
May Noble Triple Gem Bless You!
WISHING YOU WONDERFUL PROSPEROUS, HEALTHY AND HAPPY NEW YEAR!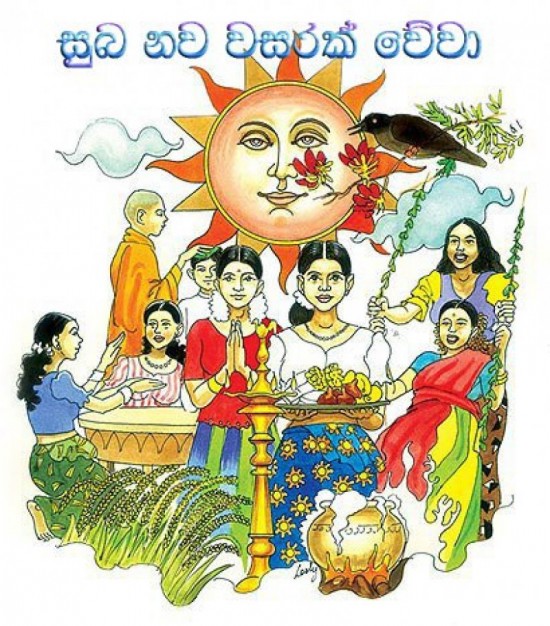 Sinhala & Hindu New Year Celebration was held at Tanaya Park today, April 12th, 2014 with main participation of Most Ven. Alawala Subhuthi & Most Ven. Nawala Lakkhana. Ven. Subhuthi explained that the meaning of Sinhala & New festival is that according to astrology,  sun moves from the house of Pisces to the house of Aries in Celestial and new year aurora begins during this transitional period. He also valued that while living in a country like United States, parents  encouraged their children by making them participate to such celebration to witness the Sri Lankan culture and tradition. After lighting auspicious coconut oil lamp by both Monks and elders of the community, Ven. Subhuthi and Ven. Nawala Lakkhana also rub coconut oil on top of all people's heads and wished that they would live long life
                                  Ven. Alawala Subhuthi appreciated participation of Sri Lankan people to Celebrate this occasion and grateful for sponsors who assisted him to arrange this Celebration by organizing starting from food to scheduling traditional sport events for both children and adults.  At the end of the games, children and adults got small gifts for their best skills.
May Noble Triple Gem Bless You!
We are in a small resting place after traveling a long journey in this cycle of life. Buddha mentioned that one can become noble in many ways. Someone become noble by listening, seeing, profit of faith, learning four noble truths and noble eight fold path, servicing monks and recalling teachings of the Buddha; and your support, Ven. Dhammarathana have helped us to become noble. You have changed us for the good and your departure to Sri Lanka have greatly felt us.  We are not sure that we will see you, but your monastic support over the years, we greatly value. Your monastic mission in Las Vegas have been wonderful over the years. Not only that, but also whenever we have daily problems in life or perhaps problems with our health, you and Ven. Subhuthi have used power of virtue to console us as lay people. We cannot finish appreciating your dedication to improve the temple and support everyone in Las Vegas to build faith towards Buddhism and guide us to develop our spiritual lives. Also we are grateful for showering us with rain of Dharma over the years and cleanse our mind to travel in the path of purification. By wishing you have a great spiritual life and hoping to see you in the future whenever, wherever…. So long…
May You Enjoy Long Life!